Algarve Fact File:
| | |
| --- | --- |
| | Flight Time 2-3 hours |
| | Average summer temp: 24c |
| | Currency: Euro's |
| | Time Difference: 0 hours |
View Larger Map
When is it best to visit?
The Algarve is open all year round but it is a lot cooler in the winter months and there can be more rain. If you are after near guaranteed sun, then spring to Autumn is the best time to book your Algarve holiday.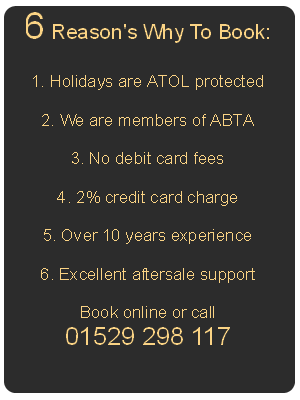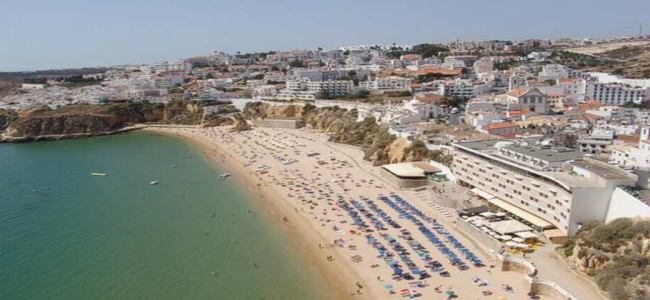 Algarve Adult Only Holidays
The Algarve is a popular destination for holiday makers from the UK. With a relaxed atmosphere, tourists visiting the Algarve for an adult only holiday can enjoy the wonderful culture and cuisine that is on offer. In the summer months the weather is amazing with the average temperature being 24c. A lot more warmer than the recent wet summers we have had in the UK.
Algarve Adult Only Holiday Hotels:
We offer a choice of two adult only holidays in the Algarve, both offering a peaceful environment. The Aqua Pedra Dos Bicos Hotel is an island of tranquillity in Santa Eulalia, close to the bustling, vibrant Albufeira, and 300 metres away from the famous strip at Areias de Sao Jao and offers a choice of bed and breakfast or half board. A lot of our clients visit the excellent Vila Gale Praia Hotel which is also a 4 star hotel simply because it is a smaller hotel that continually gains good reviews. Click on either hotel links below or run a search for your chosen dates to see which has availability.
3 reason's why to visit the Algarve?
1. Beaches:
The Algarve is the home to many stunning golden sandy beaches. The most popular beaches are found in Albuferia. There are cafes, bars and shops all near the beaches to help you keep hydrated. There are also vendors selling drinks on the beaches but always make sure the water bottles are sealed.
2. Relaxation:
Although the Algarve caters for holiday makers who seek an active night life, it is also perfect for those seeking a relaxing break. Both of the adult only hotels listed above are designed to make you're stay as relaxing as possible.
3. Cuisine:
The cuisine in the Algarve is amazing with a big emphasis on fish. Salted cod and Red mullet are two popular dishes. If fish is not your cup of tea then try a fabulous pork dish. For a treat a Portuguese custard tart is a must try and why finish the day off with a glass of local Port.
Our Recommendation's for Algarve
Faro - Aqua Pedra dos Bicos
Algarve
Departing Manchester,
18/02/2016, 7 nights, Bed & Breakfast, 4 star
Disclaimer:
Prices shown are per person and are for guidance only based on two people sharing and flying from London Gatwick. Prices can change daily and be different at different times of the year. Please click on the price to see more.