Majorca Fact File:
| | |
| --- | --- |
| | Flight Time 2-3 hours |
| | Average summer temp: 26c |
| | Currency: Euro's |
| | Time Difference: +1 hours |
View Larger Map
When is it best to visit?
Majorca just like Ibiza and Menorca is open all year round. However, it can rain a lot in the winter so we recommend that you visit in the spring/ summer and autumn.
Majorca Weather
Average monthly temperature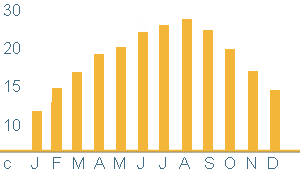 Weather chart is a guide
Majorca on the blog
Latest blog articles on Majorca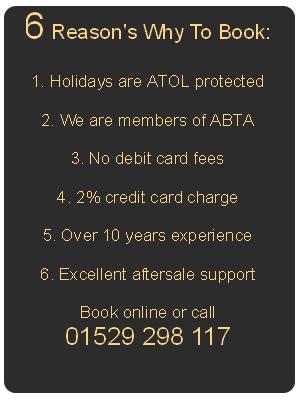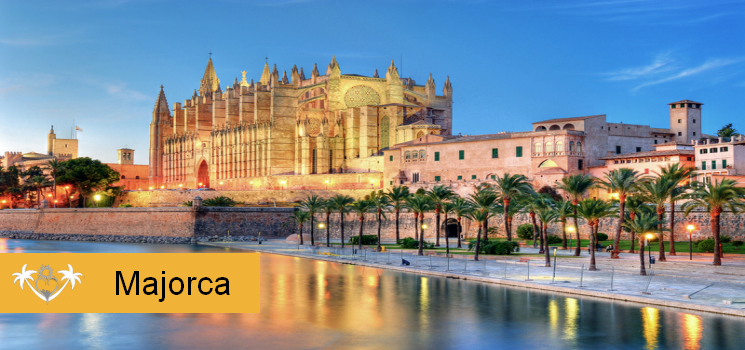 Majorca Adult Only Holidays
Majorca also known as Mallorca is the largest of Balearic islands, situated in the Mediterranean sea. Majorca has been a popular destination with holiday makers for the last 30 years. The temperature in the summer averages 26c but drops down to 14c in the winter, which is often still warmer than the UK but see's an increase chance of rain.
Majorca's growth in popularity stems from the short flight it takes to visit. Based on flights from London Gatwick airport, you could arrive in Majorca in less than 2 1/2 hours. Most charter airlines such as Thomas Cook and low cost carriers such as Easyjet offer a regular flying schedule from all international and regional airports.
Although Majorca caters for the family package holiday brigade it also caters for travelers who seek a Majorca adults only holiday. There are 18 fantastic hotels to chose from. These range from 3 star right up to 5 star hotels all offering a choice of board levels. Further down you can see our top 4 selling Majorca adults only holidays and links to other excellent hotels in Majorca.
Our Advice

Get the Most out of Majorca! Majorca is perfect whether you seek a 'stay by the pool holiday' or a holiday packed with Culture and good food.
Palma is a great city steeped in history influenced by the Romans centuries ago. The Gothic Cathedral is a must visit.
If you fancy an evening out, then book a table at the 'Restaurante Selani' ask you receptionist to book a table for you. (Restaurant is located in Cala D'or).
Top 4 Selling Hotels:
Other Adult Only Hotels In Majorca:
Below are other Adults only hotels that we sell in Majorca. They are all excellent and worth a consideration.
Board Basis: RO = Room Only, SC = Self Catering, B&B = Bed and Breakfast, HB = Half Board, FB = Full Board, AI = All Inclusive.

3 reason's why to visit the Majorca?

Culture Majorca is full of rich history dating back to 4000bc. Visitors to the island are encouraged to take a day trip and at least visit the cathedral in Palma. If you enjoy visiting Monasteries then you will enjoy the Lluc Monastery. Holiday makers will also find an excellent choice of galleries, local crafts and Museums to enjoy.
| | |
| --- | --- |
| | Beaches Majorca has some stunning sandy beaches all which offer a good selection of water sports and refreshment areas. Alcudia is a popular beach for many holiday makers although beaches in other resorts are just as good including Ca'n Picafort. |
| | |
| --- | --- |
| | Food As with mainland Spain Paella is popular with tourists and shellfish, albeit imported is popular with the Majorca diet. Visitors will find a great choice of English bars and restaurants along with traditional Spanish tapas bars. |
Recently viewed by clients:
Majorca - Luabay Marivent
Cala Mayor
Departing Gatwick,
01/11/2015, 7 nights, Bed & Breakfast, 4 star
Majorca - Roc Oberoy Hotel
Paguera
Departing Luton,
06/10/2015, 7 nights, Half Board, 4 star
Disclaimer:
Prices shown are per person and are for guidance only based on two people sharing and flying from London Gatwick. Prices can change daily and be different at different times of the year. Please click on the price to see more.